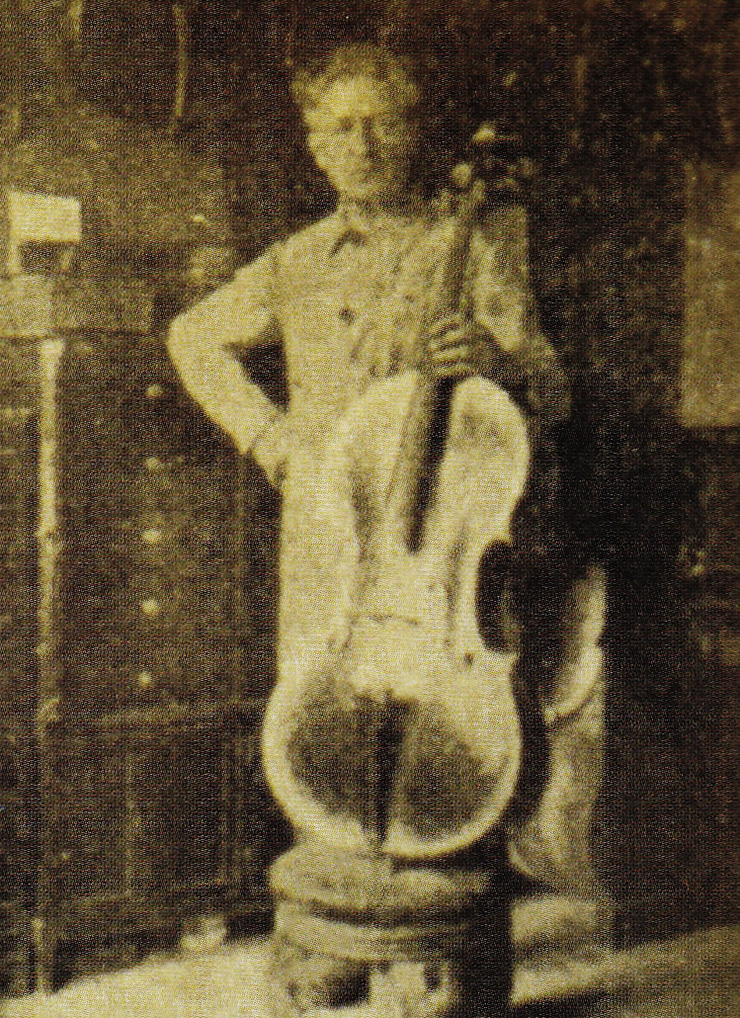 Giuseppe Pedrazzini (1879-1957) was born in Cremona and was working as a woodworker before moving to Milan at the age of 24, when he started to become interested in stringed instrument making. He began to make his own instruments studying with Romeo Antoniazzi, who was a successful maker in Milan at the time. Because Pedrazzini used to be a woodmaker, he was quick to master the art of violin making and was already producing fine works, which were rated highly by musicians and his colleagues, that he opened his own workshop in 1906. A fine maker Leandro Bisiach, who was working with Antoniazzi at the time, was also attracted by Pedrazzini's works and started to ask Pedrazzini to make instruments for him.


When World War I began in 1914, Pedrazzini went to work as a woodworker at an aircraft manufacturing plant, where Bisiach's apprentice Giuseppe Ornati was working as well. It can be hypothesised that Pedrazzini and Ornati became friends there, discussed about instrument making between work and even made a few instruments, as Ornati's works dated during the war have been found.







After the war, Pedrazzini went back to making instruments and went onto win a Gold medal at a stringed instrument competition in Rome in 1920. From then on, Pedrazzini rose to fame and orders from outside Italy started to come in. By Bisiach's recommendation, Pedrazzini welcomed Ferdinando Garimerbti, an extreme talent with knife skills, as his apprentice and made instruments together. Pedrazzini's works were mostly modeled after Stradivari, Amati and Guadagnini, but showed his own personal interpretation with beautiful symmetry and absolute precision. Scrolls are usually deeply carved and his antiqued varnish was definitely his forte. He was a masterful copyist and has left numerous fine copies as well. In addition, Pedrazzini, like Bisiach, was a successful businessman dealing antique Italian instruments, which probably helped him circulate his own instruments to various dealers worldwide.



After winning a prize for his works of quartet at a stringed instrument competition in Cremona in 1937, Pedrazzini rose to even more fame and more orders were pouring in. One of his clients was Boosey & Hawkes, who made orders in bulk that Pedrazzini employed his nephew Natale Novelli and Piero Parravicini to work together to accommodate the abundant orders. Works from this period, in effect, are not as consistent as his own from the earlier period or the works he collaborated with Garimberti; however, Pedrazzini has indeed produced some of the finest instruments with bright and beautiful tone quality and left his name in history as one of the finest makers in Milan.



(On a side note, when a musician is looking for a modern Italian violin and is not too fond of Fagnola's tone, more than 70% of them go on to prefer Pedrazzini's.)



Pedrazzini's works have certain unique qualities that make it easier to detect him as the maker and one of them is his yellow gold ground coating, which is extremely unique that it usually is the giveaway. During his career, he used five different labels.




The instrument being introduced here is from 1925, modeled after Stradivari with a slightly lower arch that is Pedrazzini's style, and is an exceptionally fine instrument. Its size is very well balanced and has a silky, shiny orange gold varnish on top of his signaure yellow gold ground coating. The instrument is in mint condition and is a prime example of Pedrazzini's works at the height of his success.