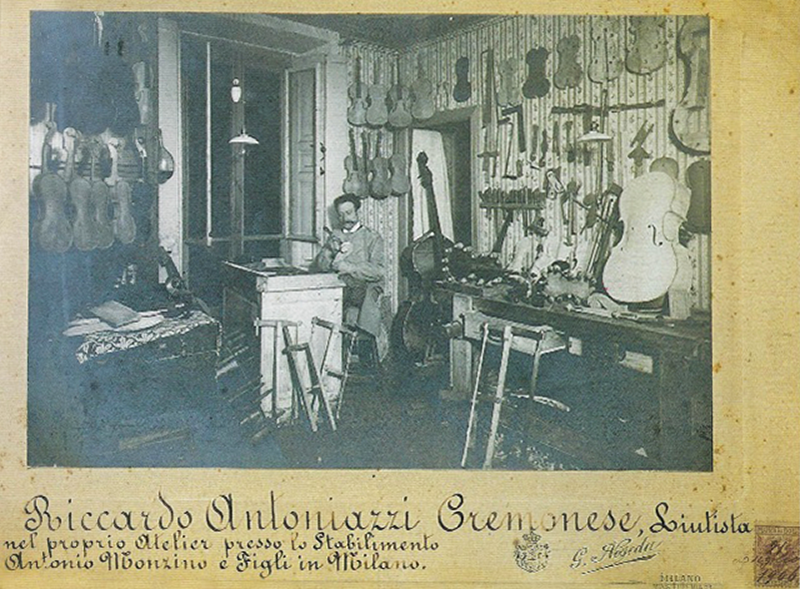 Riccardo Antoniazzi (1853-1912) and Romeo Antoniazzi (1862-1925) were sixth and eighth child of Gaetano Antoniazzi, a Cremonese violin maker. Gaetano was a pupil of Enrico Ceruti, the grandson of J.B. Ceruti who was considered to be the last glory of the Cremonese makers. Enrico was to be the last of the Ceruti family, which also marked the end of the Cremonese glory, as Gaetano Antoniazzi's extremely unique character vastly differed from the Cremonese tradition of violin making. That is the reason why Gaetano's works were not well received and could not sell as much as he would have liked, which led to the Antoniazzi family living in poverty.



In 1870, Gaetano decided to move to Milan with his sons Riccardo and Romeo, but after finding out that things were not any different there, they moved to Nice in 1880 to work for Bianchi. However, as that did not last long either, they returned to Milan in 1886 and had a fateful encounter with Leandro Bisiach, who was to become one of the biggest violin dealers in history.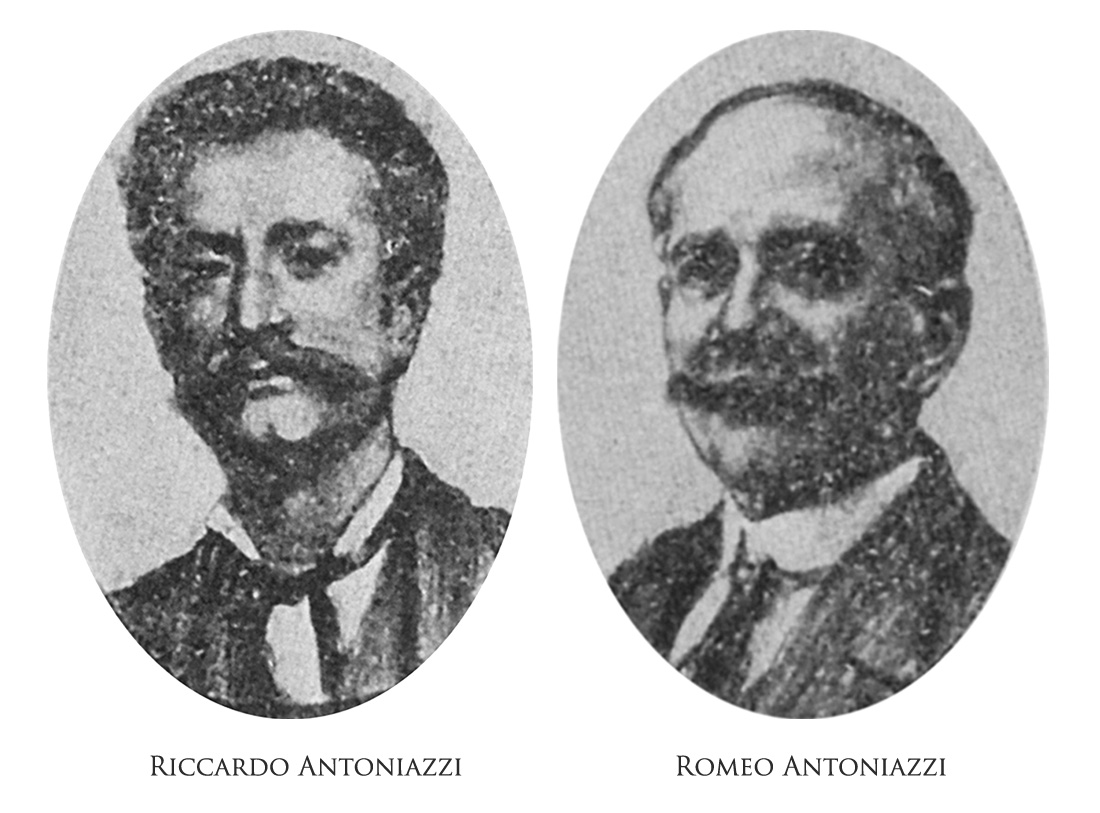 Not only was Bisiach a fine violinist from a young age, he studied antique Italian violins and made many copies of them using his remarkable skill and imagination. Most of all, he was a bright businessman.
The Antoniazzi brothers, who were pure artisans and not businessmen, hit it off with Bisiach and they decided to work together. Their workshop soon became popular especially among the top class musicians and important dealers that they had the opportunity to repair, set up and sell some of the greatest old Italian violins, including Stradivari, Guarneri and Amati. This gave them the chance to closely study the finest instruments while also producing their own.
Although Riccardo and Romeo started to produce some of their finest works from around 1890, many of them bear Bisiach's label for business reasons. Although Gaetano passed away in 1987 before his works saw the light of day, this was the Antoniazzi brothers' Golden Period until around 1904. During this period, they also trained many apprentices, including Pedrazzini, Ornati and Garimberti who were to eventually become fine violin makers in Milan.
Unfortunately, the brothers fell out with Bisiachi in 1904 and went to work for Monzino or Barlassina. Because the workshop produced in mass, the Antoniazzi brothers trained and collaborated with many apprentices that it is quite difficult today to find fine works produced during this period as a lot of them were not made with great care and have hard and cracked varnish often seen on mass produced instruments.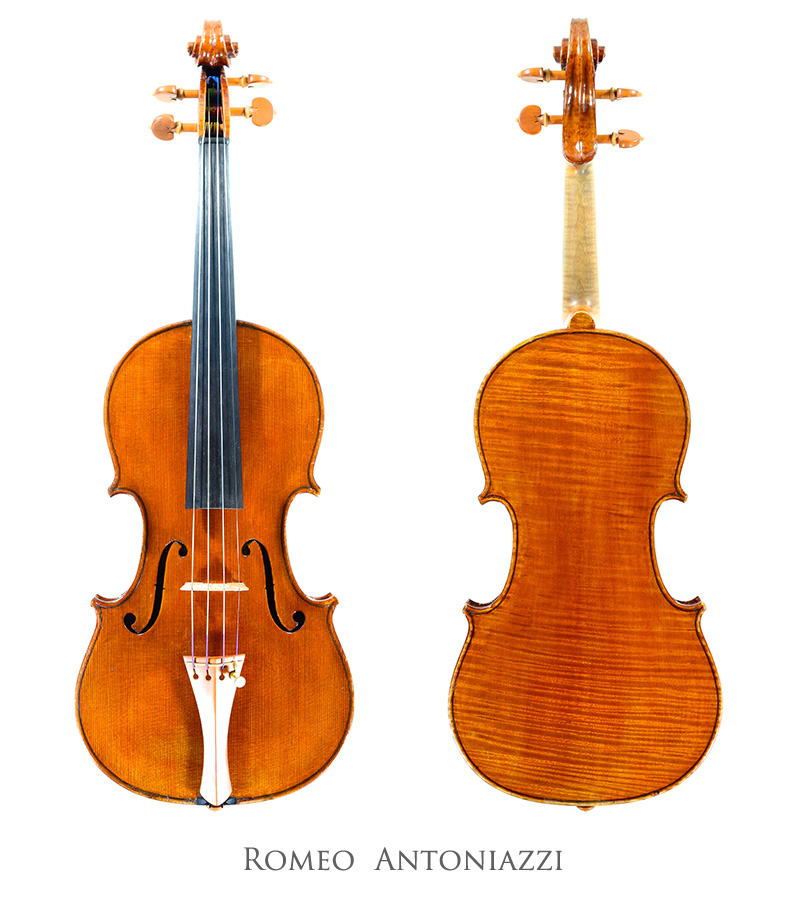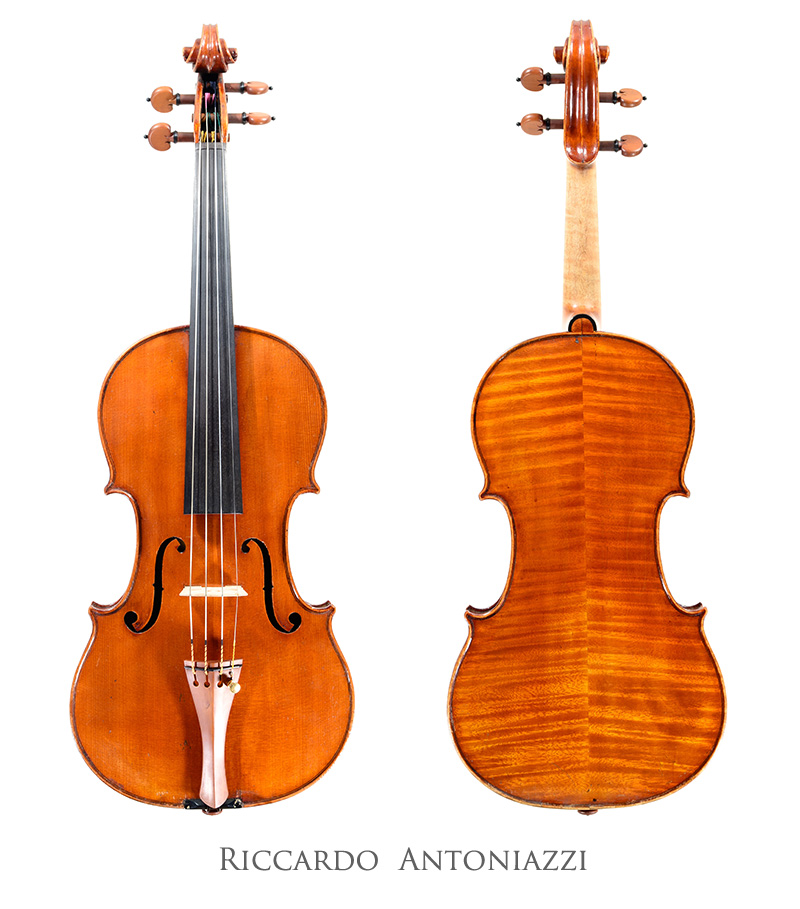 Many of Riccardo's works during this time had a brand containing a cross and his initials 'AR', while Romeo' labels had "Made in Cremona" written on them for business purposes as he was actually based in Milan.
Although their works form this period are mostly inferior to those produced during their Golden Period when working for Bisiach, some of the varnish are smooth and flexible, obviously made with great dedication and passion, so it is crucial to identify these instruments with much care.
When comparing the brothers' instruments, Riccardo's generally have more beauty, more consistency and more precision compared to that of Romeo's, but Romeo produced some instruments with great energy and power, one of which won a gold medal in a competition in 1906, so his successful works were of a top quality as well.




The violin, which is being introduced here made by Riccardo Antoniazzi in 1897, is one of the best works produced during his Golden Period, using the finest quality of wood, incomparable to the poor quality materials he used when he was poor. The arching on this instruments is beautifully balanced and the varnish is elegant and first-rate that it almost seems like this was made with the greatest love and passion for his father Gaetano who passed away that same year.


Romeo Antoniazzi's violin made in 1904 is one of the last works he made during his Golden Period. This shows Romeo's strong edges, fine details, beautiful varnish and a well balanced arch, that this, too, could be seen as one of the finest works that he has produced.