Verus String Quartet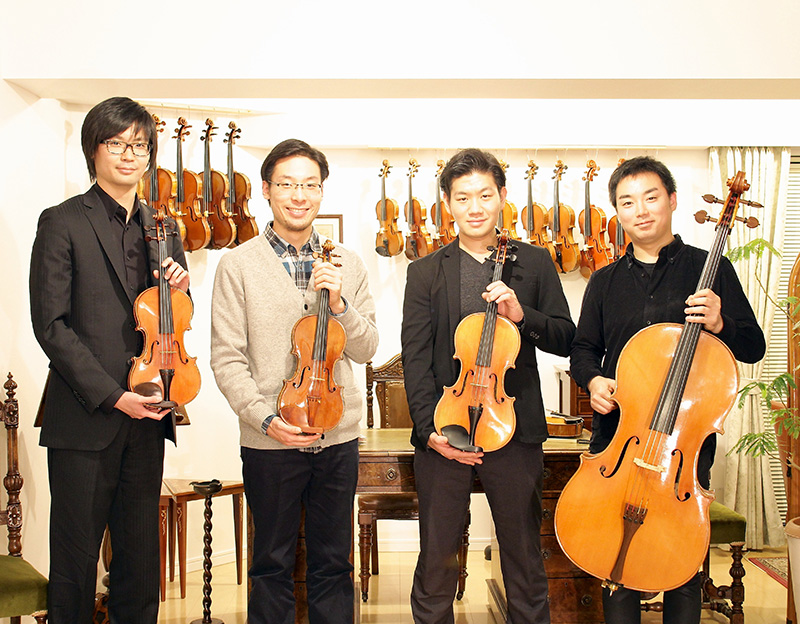 Verus String Quartet is recognized as one of the most sought-after and promising young string quartets born in Japan today. Founded by students of TOHO Gakuen School of Music in 2006. Verus String Quartet performed in various series and festivals in Japan such as Karuizawa Arts Festival, Miyazaki International Festival, Project Q, and Ensemble Series by JT Art Hall.
Verus String Quartet won the 3rd prize at the ARD International Music Competition Munich in 2008, and it was the prize that a Japanese quartet has ever received since Tokyo String Quartet won the first prize 38 years ago. In 2009, the quartet made the official debut concert supported by Japan Music Foundation at Oji Hall, Tokyo. The quartet studied with Koichio Harada and Tokyo String Quartet.
In spring 2010, Verus String Quartet moved its home base to Basel, Switzerland and studied under Rainer Schmidt, Hagen Quartet at Musik Akademie Basel.
It gradually expanded career in Europe and performed at Festival de théâtre "Chapeau bas lfartiste" in Bonnieux in Southern France, Festivals at Wundern-WestWeg Musik and Scholoss Baugen in Germany, to name a few. In this year, the quartet received Kyoto Aoyama Music Award.
In 2011, Verus String Quartet received gex aequeog prize from Stiftung Basler Orchester-Gesellschaft (BOG), the 3rd prize at Osaka International Chamber Music Competition. In 2008, 2010, 2011, it received special grant from The@Matsuo@Foundation. In 2012, the quartet appeared at Schwetzinger SWR Festspiele in Germany, which was broadcasted on radio by SWR.
After graduation from Musik Academie Basel in 2012, the quartet again moved its home base to Japan from 2013 and appeared at Spring Festival in Tokyo in April and also performed for the concert featuring Dai Fujikura at Hakuju Hall in Tokyo(String quartet No.2 gFlareh composed in 2010) , which received high critical acclaim. In October, the quartet gave the recital presented by Kioi Hall, Tokyo and received rave reviews.
In 2014/2015 season, the quartet became Resident Artist of Hakuju Hall in Tokyo and had its own series (3 concerts per season).
Verus String Quartet performed also with Menahem Pressler, the founder of Beaux-Arts Trio, Richard Stolzman, Paul Meyer and other major artists.
Verus String Quartet โ
http://verusquartet.net/